A 10 Day Declutter Challenge
10 Days to Declutter - How Much Can You Get Done?
Since many of us are home for the near future, why not utilize some of that time and clean up and clear out various areas of our homes? I know my house could certainly use it!
Here is a 10 Day Declutter Challenge for you to try. Just think about how much more organized you are going to feel in a little over a week! 🎉
Day One - The Laundry Area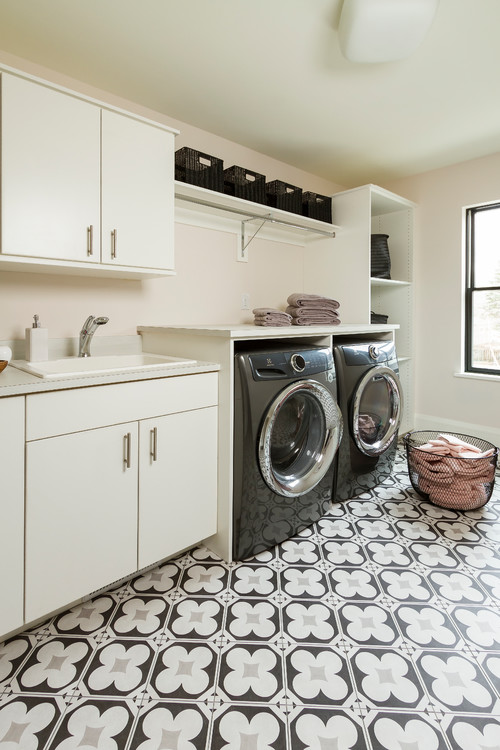 Photo by w.b. builders - Look for laundry room pictures
It is time to get rid of those single socks hanging around or relegate them to cleaning rags. Tidy up your cleaning supplies and clear off the countertops.
Day Two - Kitchen Drawers and Cabinets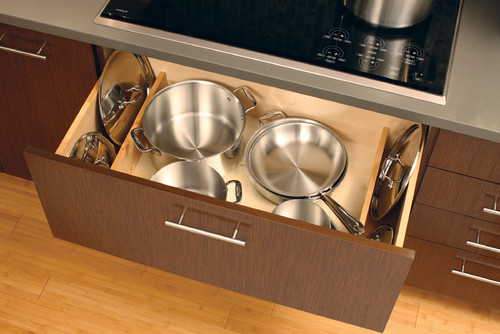 Photo by Dura Supreme Cabinetry - Browse kitchen photos
Take the time to go through your kitchen drawers and cabinets. Have duplicate tools? Donate them. Anything that is broken can be tossed. Have plates, glasses and cookware that you are not using? They can also be donated. Have a Tupperware storage area? Go through and make sure there are matching lids for all of your containers.
Day Three - Refrigerator, Freezer and Pantry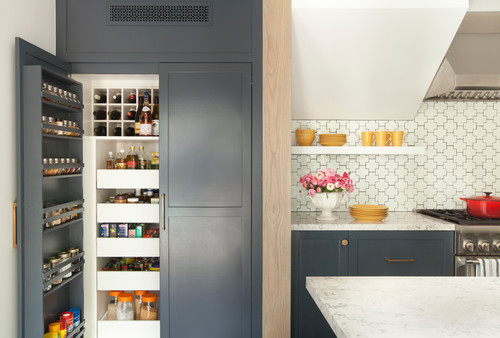 Photo by Breathing Room Design - Search kitchen pictures
Now is a perfect time to go through your refrigerator, freezer and pantry. Toss any expired food and condiments. In the freezer, get rid of any items that have been in there too long.
Organize your pantry to make it easy to find things - i.e. baking supplies in one section, pastas and sauces in another, etc.
Day Four - Countertops and "Catch-All" Drawers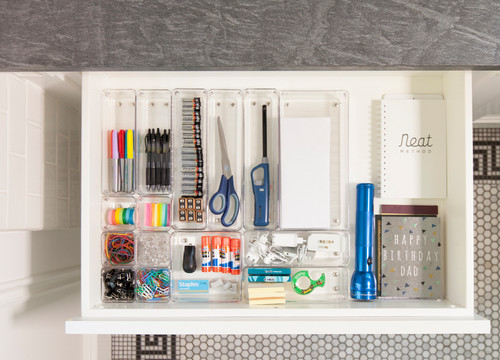 Photo by NEAT Method Santa Barbara - Search home office design ideas
I am guilty of making little piles everywhere and then taking my time to actually weed through them - mail, paperwork, kids' homework... the list goes on. Now is the perfect time to clean up the piles by tossing what you do not need and putting what you plan to keep away,
Do you have lots of little knick-knacks that are simply collecting dust? Time to clean them up and donate them.
And today is the day to tackle the dreaded junk drawer(s) in your home. Same principle - toss what you do not need and organize the rest.
Day Five - Your Linen Closets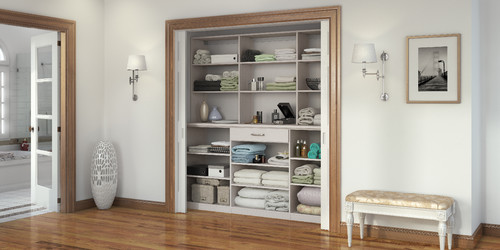 Photo by California Closets of Tennessee - Look for closet design inspiration
When was the last time you went through the towels, sheets and blankets in your linen closet? Are you really using all of them? Is it time to refresh some of them?
Pull everything out and neatly re-fold what you are planning to keep. For the items that did not make the cut, did you know that animal shelters are always looking for bedding and towels?
Day Six - Your Bathroom Cabinets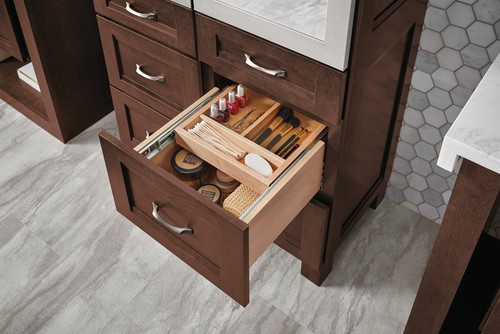 Photo by KraftMaid - Look for bathroom design inspiration
It is time to start tackling the bathroom. Go through any drawers, medicine cabinets as well as clean out under the sink. Toss any expired or empty items as well as things you are not using anymore. Use baskets or containers to keep the area under the sink tidy.
Day Seven - Clothes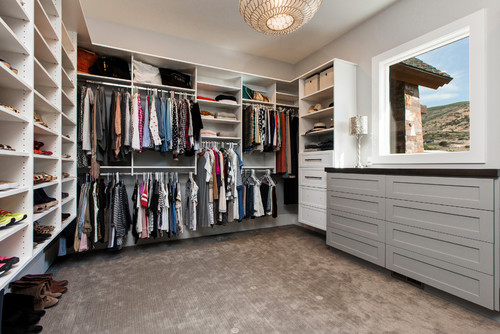 Photo by Timberidge Custom Homes - Search closet design ideas
It is now time to hit the closet! Go through and try on any clothes you are on the fence about, then decide to keep or donate. Organize your clothes by type (shirts, pants, jeans, etc.) to make it easy to locate what you are looking for going forward.
If you want bonus points, adopt the KonMari approach that Marie Kondo developed.
Day Eight - Shoes and Accessories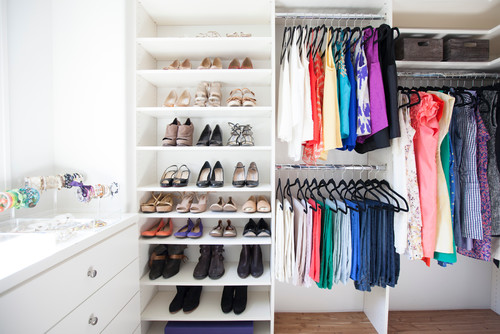 Photo by Neat Method San Diego - Browse closet photos
Now that your clothes are nice and organized, it is time to turn your attention to your shoes and accessories. Again, purge or donate any shoes you do not wear or like anymore. Also, go through your accessories and see if there are any that you are ready to part with.
Day Nine - Books, Music, DVDs, Magazines, Toys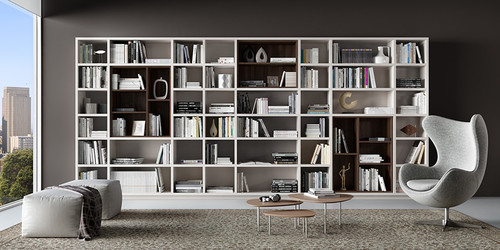 Photo by California Closets Connecticut - More family room ideas
This is going to be a big one for our family as we have accumulated a lot of these items.
Try and just keep the items that you love and donate the rest. If you have kids, get them involved by letting them know any toys or books they give away will bring happiness to another child.
Day Ten - The Office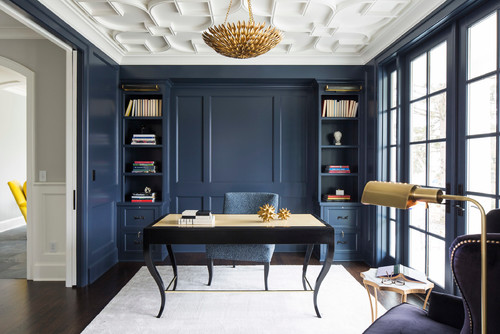 Photo by City Homes, LLC - Discover home office design ideas
Time to get rid of paper that you do not need anymore! Grab a bin for recycling and get started.
Also, this is a great time to organize your files and clean up your workspace.
CHALLENGE COMPLETE!
We hope that you enjoyed taking on this challenge and were able to declutter all around your home!